Objectives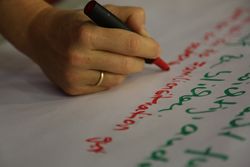 Our project wants to create greater interest in the Church as a workplace among female university students and graduates and encourage and enable junior employees from Catholic institutions to aspire to executive positions in this professional field.
The programme also serves another set of purposes: to promote equal rights for men and women in this pivotal field of social interaction; to make the working culture in the institutions involved more productive and creative and to advance the sustainable development of the German Catholic Church in the 21st century.
The programme is designed to be a model project implemented in selected dioceses and linked by a number of joint events. It aims at personnel development targets in the short, medium and long term.